My School Cards
How Do I Sign Up?
If you currently have a debit card simply tell us which school card design you want.
If you currently do not have a debit card and want a school card simply let us know.
How Do I Use My Card?
Select credit instead of debit when you use your debit card.
How Do I Help My School?
Every time you select credit instead of debit Bank of Urbana will donate to your school.
ATM/Debit/Business Debit Cards
We have put some of our most popular services into the palm of your hand. Start enjoying our services with any one of our convenient cards today. Simply call or drop by for an application, complete it, and upon approval your card will be printed and issued instantly in the branch. You can walk out of the branch with your debit card in hand ready to use immediately! It is like having your own personal teller whenever you need one.
Security
Protecting you from unauthorized use of your debit card is one of our top priorities. To reduce your fraud risk, we have partnered with FraudWatch Plus, a 24x7x365 fraud monitoring program that combines the most sophisticated fraud detection technology with experienced fraud analysts. It employs neural fraud modeling technology to flag suspicious or high-risk transactions. The program scores each transaction based on weighted variables and business rules conducive to detecting fraud. An alert is generated when an authorization matches the definition of a rule-based strategy. If an alert is generated, you will be contacted by someone at our institution, or a fraud specialist calling on our behalf, to verify the transaction. This way, you can be sure your card is safe, no matter where you are.
Daily Limits
As an added security measure, daily limits are placed on all cards.
CASH WITHDRAWAL LIMITATIONS - You may withdraw up to $305.00 through use of ATMs in any one day.
POINT OF SALE LIMITATIONS - You may buy up to $1005.00 worth of goods or services in any one day through use of our Point of sale service.
Selecting Your Own PIN
Would you like to choose your own PIN number? Just call Bank of Urbana at 1-800-262-9229. A $5.00 fee will apply.
Activating Your Card
Your card may be activated in one of two ways:
Use your card for any PIN-based transaction
Call Bank of Urbana at 1-800-262-9229
Lost Card
If your card becomes lost or stolen, immediately call Bank of Urbana at 1-800-262-9229 or, after hours, call 800-791-2525. If you would like to apply for a new card, contact Bank of Urbana.
Fees That May Apply:
$5.00 will be charged to issue a new PIN.
$10.00 will be charged to issue a replacement card.
$10.00 will be charged to HOT Card an existing card.
Verified by Visa helps make you more comfortable buying online by enhancing the security and integrity of Internet purchasing. You simply add a personal password to your existing Visa debit card account and use it when shopping online at Verified by Visa merchants. The password acts much like an ATM card PIN that enables the Bank of Urbana to verify your account ownership during an online purchase.
Credit Cards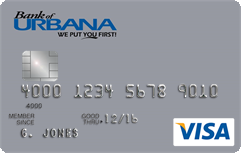 Bank of Urbana has partenered with UMB Bank to offer Bank of Urbana branded Visa Cards. Click on the link below to apply!
Competitive rates and fees
Auto Rental Emergency Assistance Services1
Travel Emergency Assistance Services1
Warranty Manager Service1
Fraud Liability Protection2
Manage your card: https://www.cardcenterdirect.com/Login.aspx
Rewards: https://bankrewards.revloyalty.com/groupCardServices/catalog/home.php
Rates & Fees: https://www.umb.com/groups/public/documents/web_content/014154.pdf
Please report fraud or lost or stolen cards to our 24/7 credit card customer service line at 800-821-5184.
Cards issued by UMB Bank, n.a. 1See cardholder benefits for details. 2 Visa's Zero Liability Policy covers U.S.-issued cards only and does not apply to certain commercial card transactions or any transactions not processed by Visa.